We had a two-day Thanksgiving holiday. My parents arrived here in town a bit earlier than originally planned so my dad could help my sister Renee finish the tiling of her kitchen backsplash. So yesterday we made and ate a "somewhat" holiday meal…stuffing, potatoes, salad, steamed vegetables, pumpkin pie, and grilled chicken (not turkey as I'm not a fan).
Cheers to the grillers who faired the chilly weather.
And cheers to Luke and Katie for decorating our Christmas tree the day before!
Then this evening we gathered with my sister's family at their house for our traditional TURKEY meal. We missed those in my brother's family because many of them were feeling ill. But we were grateful that the rest of us were able to be together.
The adult table…
The "kids" table…Hahaha! These kids are growing up way too fast.
Plus Renee's tiling was complete and looked so beautiful in her newly remodeled kitchen!
It was a wonderful holiday filled with love and gratitude.
If you've kept up with what I've shared this past year, you know I've personally had quite the year. We took several of our rooms apart and remodeled most of our top two of our four levels. But along with all that craziness (and you know what I mean if you've ever remodeled or built a home) and entering the menopausal phase of life (how fun) I've acquired quite a few changes personally to my health, and it's been a rough and exhausting road. But I still look back on this past year with SOOoooo much gratefulness! I'm still so blessed in so many ways…my boys & husband, my family & friends, the travel I've experienced, our home, my career, our overall health and wellness…
And thank YOU for all the support whether through following my posts, newsletters, and social media, sending kind messages or cards, ordering products & tutorials from me, being a part of my Stampers With ART community, sharing your ideas, and/or supporting through your friendship. I love that you are part of my world.
STAMP YOUR ART OUT GRATITUDE SALE
My gift of gratitude to you…
Stampin' Up! online orders of $100+** placed through my online store on November 26 (Small Business Saturday) 12:01 AM – 10:00 PM Central Time, using the host code of 2S6SUXYE, earn a Gratitude Packet* of Stampin' Up! products from me!
I've got a limited number of Gratitude Packets, so you'll want to order sooner than later. Once supplies run out the special will end. (I will post an update here in this post on my blog when that happens, if it happens before 10 PM. But feel free to contact me first before placing your order to make sure.)
*Gratitude Packets include some current but mostly past/retired products, some in new condition, some in gently used condition. These products can include stamp sets, kits, papers, embellishments, tools, and more! My storage shelves are overflowing, and this will make my husband happy to clear a bit of this out. Gratitude Packets are "as is," and contents will vary from packet to packet. No refunds or exchanges. One packet per customer. Orders must include host code 2S6SUXYE to qualify and must be placed on 11/26/22 by 10 PM CST.
**The $100 minimum is before tax and shipping is added in.
You will also earn this month's Sun Prints All Star Tutorial & Loyalty Rewards points (10 in a year's time = a free stamp set).
STAMP-N-STORAGE HOLIDAY SALE CONTINUES WITH MORE
Stamp-n-Storage is having their big Holiday Sale this week. And the deals continue!
Holiday Sale (11/20/22-11/28/22)
15% OFF Storewide and Free Shipping on orders over $100 in the 48 Domestic U.S. No coupon code is needed.
Holiday Doorbuster: 20% off the Ink Pad & Marker Holder – no coupon necessary. (This will be available the entire holiday week.)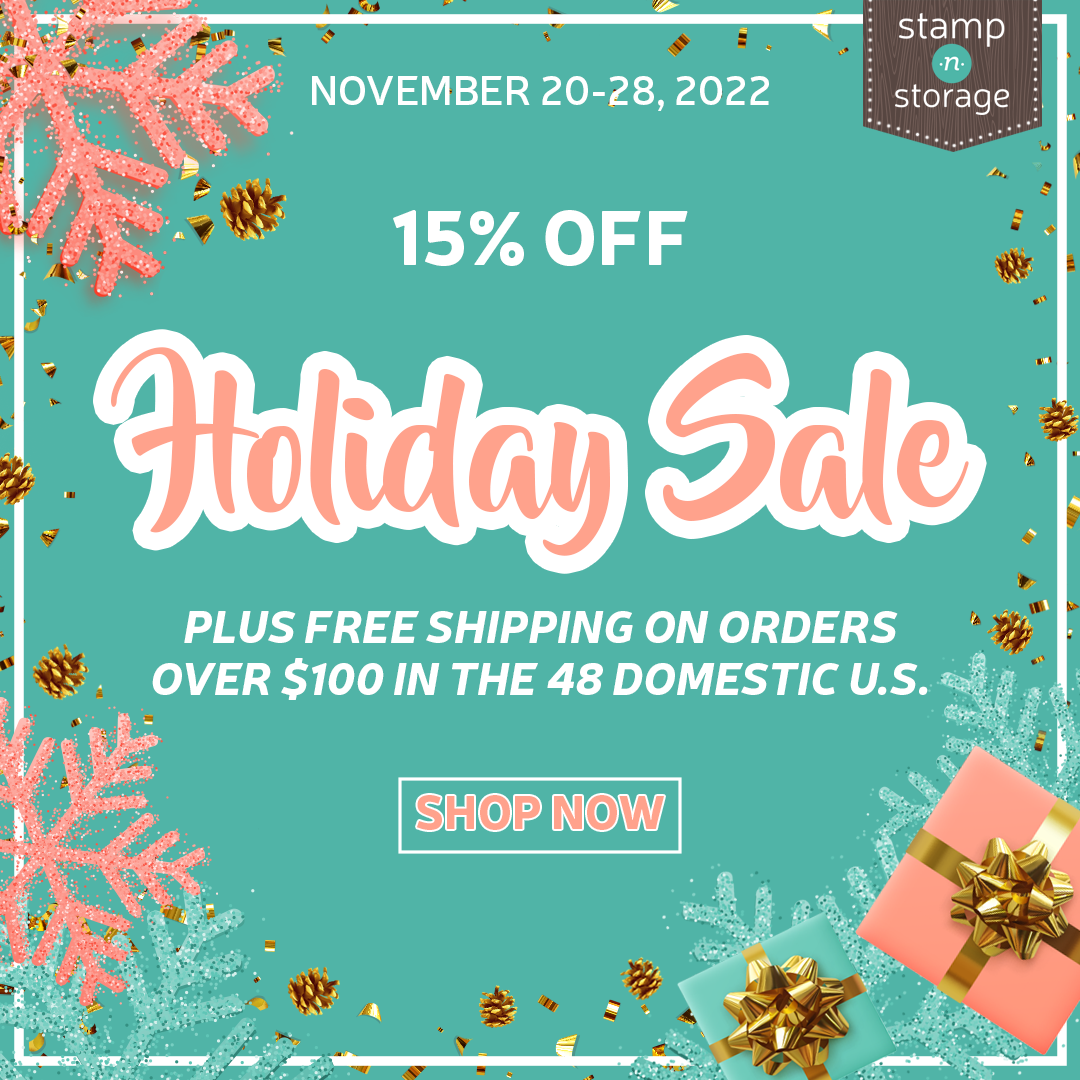 Small Business Saturday Doorbusters (11/26/22)
FREE Tool Tray with any purchase over $50. The gift will automatically add to the cart.
20% OFF all Drawer Cabinets and All Marker Storage with coupon code THANKYOU22.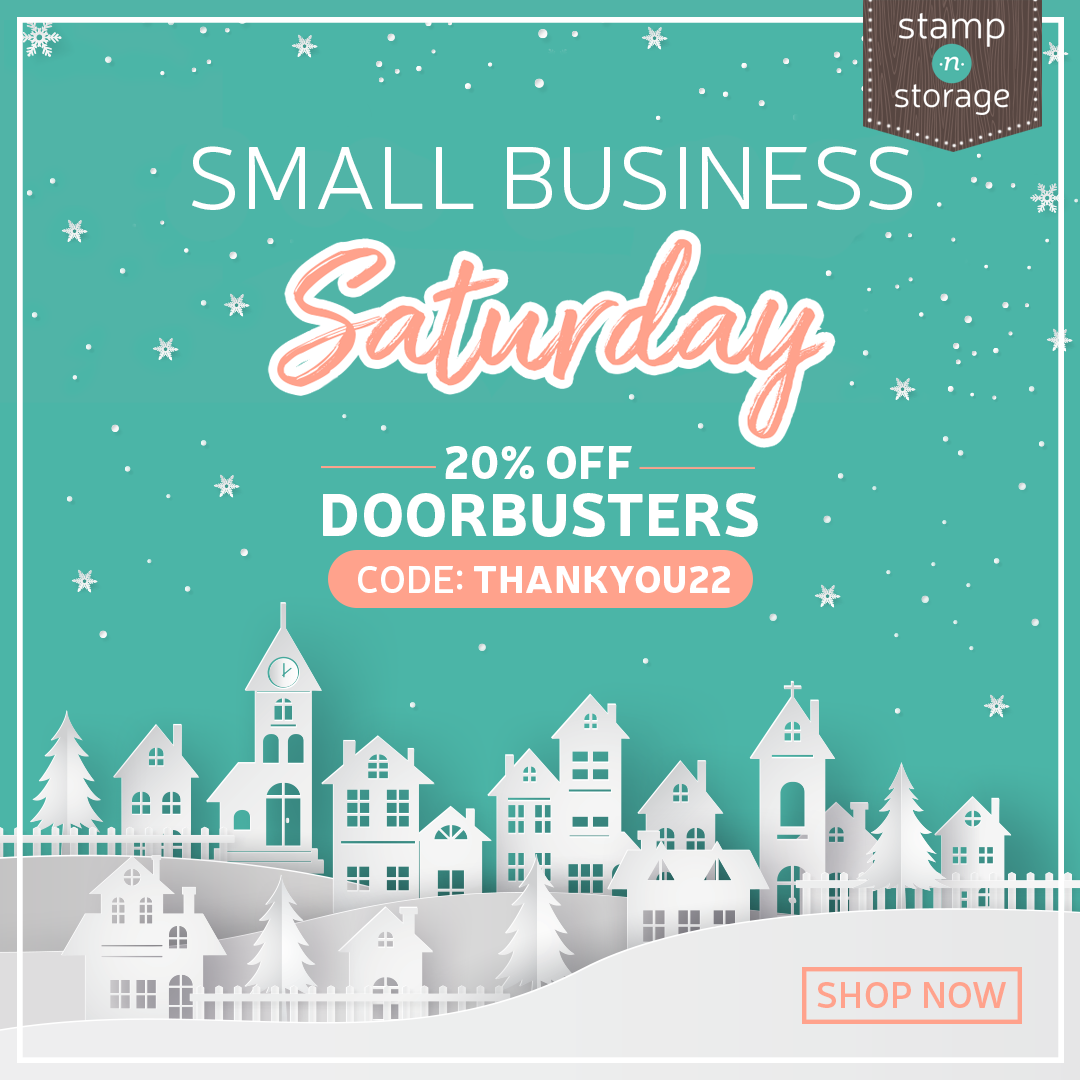 I'm a huge fan of Stamp-n-Storage products. I have several of their organizers in my craft space. They have SOOOOoo many products to keep your crafting space organized. So be sure to click here and shop. And then take advantage of the Holiday Sale deals if you plan to purchase.
Click here to shop my online store.
Click here to access & view the current catalogs.
Click here to shop My Favorite Extras.
Click here to subscribe to those fun Paper Pumpkin kits of creativity!
Click here to learn about my Loyalty Rewards program. You can earn free stamps just for shopping with me!
Click here to learn more about joining my Stampers With ART community. Get the MOST rewards including a discount on future products!
Follow me on social media! I share regularly on Pinterest, YouTube, Instagram, my Facebook Page, and my Facebook Group!
Please subscribe to my blog, too! Click here and enter your email in the blue box (above the butterfly).
STAMP-N-STORAGE HOLIDAY SALE!
Stamp-n-Storage is having their big Holiday Sale! 15% off and more!! Click here for the details.
LAST CHANCE PRODUCTS (SALE PRICES BEGIN DEC. 1)
It's time to say goodbye to retiring products from the 2022 July-December Mini Catalog. Click here for more information and to access the list of products leaving and the list of products carrying over.
FITTING FLORETS!
Oh such beautiful new products! These exclusive and early release products are now available! Click here to download an informative flyer. Click here to view a video showcasing this new Fitting Florets product. Click here and scroll down for more details on this promotion.
TIMELESS GREETINGS KIT ADDED
This month, we celebrate the people in your life who mean the world to you with Timeless Greetings—an all-occasion card kit you can use year-round! This unique kit features an elegant pocket watch and globe design in neutral colors, along with heartfelt sentiments that are sure to inspire lasting memories. This new kit is part of the Kits Collection and is available starting November 15, 2022. Click here for more details.
A PEEK AT DECEMBER'S PAPER PUMPKIN KIT
Create fun gift card holders to help you celebrate your special occasions all year long! Personalize with these reversible boxes and paper bands. This kit comes with enough supplies for you to make 16 different gift card holders—2 each of 8 reversible designs. It also has an all-occasion stamp set and enough paper pieces to allow for creativity for a unique design every time. Finished box size: 3-5/8″ x 2-1/2″ x 1/2″ (9.2 x 6.4 x 1.3 cm) Coordinating colors: Balmy Blue, Basic Gray, Blushing Bride, Calypso Coral, Crushed Curry, Garden Green, Tahitian Tide… Ink spot: Garden Green
Plus, this month you can take your crafting even further with a special add-on available now until supplies last…Good Things Cards & Envelopes. You get 16 cards (4 each of 4 designs) and 16 coordinating envelopes.
If you are not a Paper Pumpkin subscriber, I invite you to give it a try. CLICK HERE to learn more. CLICK HERE to sign up by December 10th for this next kit.
ALL STAR TUTORIALS
I'm a designer with the All Stars, a group of globally recognized Stampin' Up! demonstrators. And we are excited to share exclusively with our customers, paper crafting friends & team members our bundle of twelve November 2022 Sun Prints Suite Tutorials which are now available. CLICK HERE for more information. Click here to get to my Tutorials for Sale page to see the others that have been offered. The next one featuring the Hues Of Happiness Suite will be available December 1st! AND all these tutorial bundles include links to instructional videos!