Back on November 13th, when I shared pictures from Stampin' Up!'s OnStage event in Vienna, Austria, I promised to also share photos from outside of the event…the sightseeing and fun I had in the days surrounding and following the convention.
Vienna is a beautiful city! I hope to go again someday if I'm able. The buildings and architecture are stunning. I love that the focus is very earth-friendly. There is an elaborate system of mass transit that's very widely used, affordable and clean. And there is a focus on recycling and using very little plastic. Because everything is so close together, many people walk from place to place. And people of all income levels live mixed together…there aren't ritzy areas and poor areas of the city.
Here are just a few of the photos I took.
There are horses and buggies everywhere as a sign of the past, and for tourist fun. I never took a ride but maybe will if I come back with my husband someday.
My friend Phil from my high school years lives in Vienna with his wife Cris and two daughters, Nora and Laia. I stayed with them after OnStage ended.
And Phil was amazing! He took me anywhere I wanted to go and he knew a LOT about Vienna! It was like having my own personal tour guide. We walked all over! In fact, he picked me up from the airport and kept me awake by sightseeing with me right away. I don't even remember where many of these photos were taken (and many were taken on the later part of the trip when I was well-rested…Hahaha), but it was fun to capture the insides and outsides of so many places.
The high arched doorways on the ground level of many buildings, for example, were once entrances that horses and riders could go through.
Phil pointed out embassies, palaces, museums, memorials, statues, churches…
He helped me and my convention roommate, Zoe, get into the Staatsoper Opera house on one of our free nights during OnStage.
We rode a revolving elevator, saw where Mozart had once lived, and I learned about significant places during WWII…
We saw things lit up at night, and during the day.
St. Stephens Cathedral in the center of the city was spectacular! I photographed it quite a few times. I even went on a tour of the catacombs beneath.
Then there were the Christmas Markets! I loved shopping the Christmas Markets that were just starting to spring up here and there. We went during the day and once at night with Cris and Nora.
The things being sold were so unique. (That's chocolate in the lower right!)
I photographed a TON of the beautiful foods. But because of my digestive sensitivities I didn't try much. This café below was super popular. In fact there was long line when we arrived. But because of Phil's academic title, we went to the front of the line and got in so I could see inside and take photos.
This was just a small sampling of the beautiful pastries there!
I caved in when we went to this chocolatier.
And I caved in even more when the place that offered gluten free apple strudel ran out. I was craving it pretty badly by then. So I ate one that WASN'T gluten free.
This is another place I was excited to shop in: Boesner. Cris took me here during her lunch break one day. It's a large store full of art and crafting supplies.
Phil's family was so good to me. (Here I am crafting and drawing with Nora.)
And here we are out to eat on my last night there.
We are talking about having them come to Minnesota to visit. Hopefully that will happen! It would be fun to see all of them again and show them my little part of the world. I miss Vienna, but it's wonderful to be home again with my family.
STAMP-N-STORAGE HOLIDAY SALE
It's that time of year! Stamp-n-Storage is having their big Holiday Sale!
Holiday Sale (11/20/22-11/28/22)
15% OFF Storewide and Free Shipping on orders over $100 in the 48 Domestic U.S. No coupon code is needed.
Holiday Doorbuster: 20% off the Ink Pad & Marker Holder – no coupon necessary. (This will be available the entire holiday week.)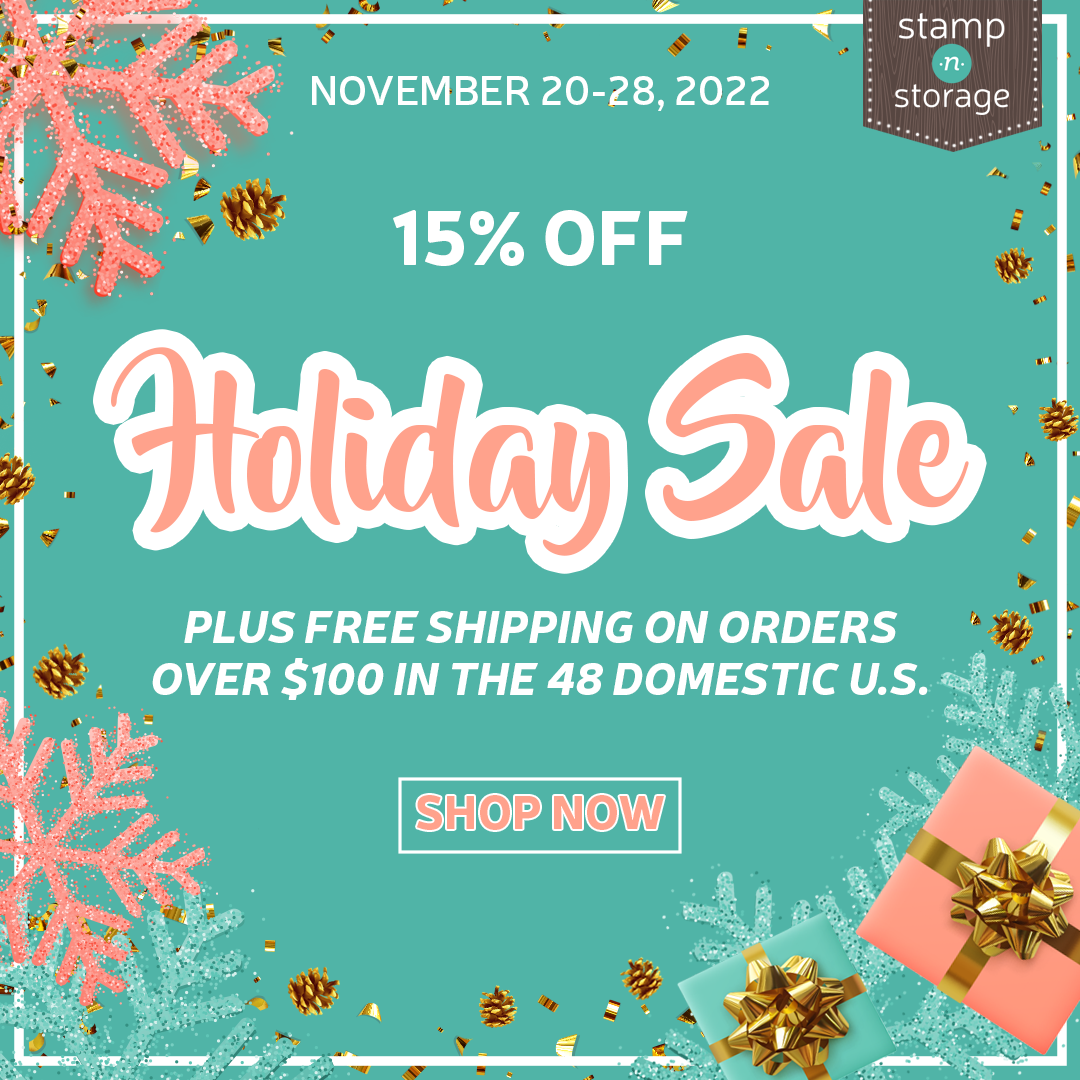 Black Friday Doorbusters (11/25/22)
Midnight to 5AM Central Time: 20% off Three-Tier Paper Holders with coupon code BFMS22.
10AM – 3PM Central Time: 20% off all 8.5×11 Paper Holders, 12×12 Paper Holders, 8.5×11 Max for IKEA, and all Paper Punches with coupon code BFDB22.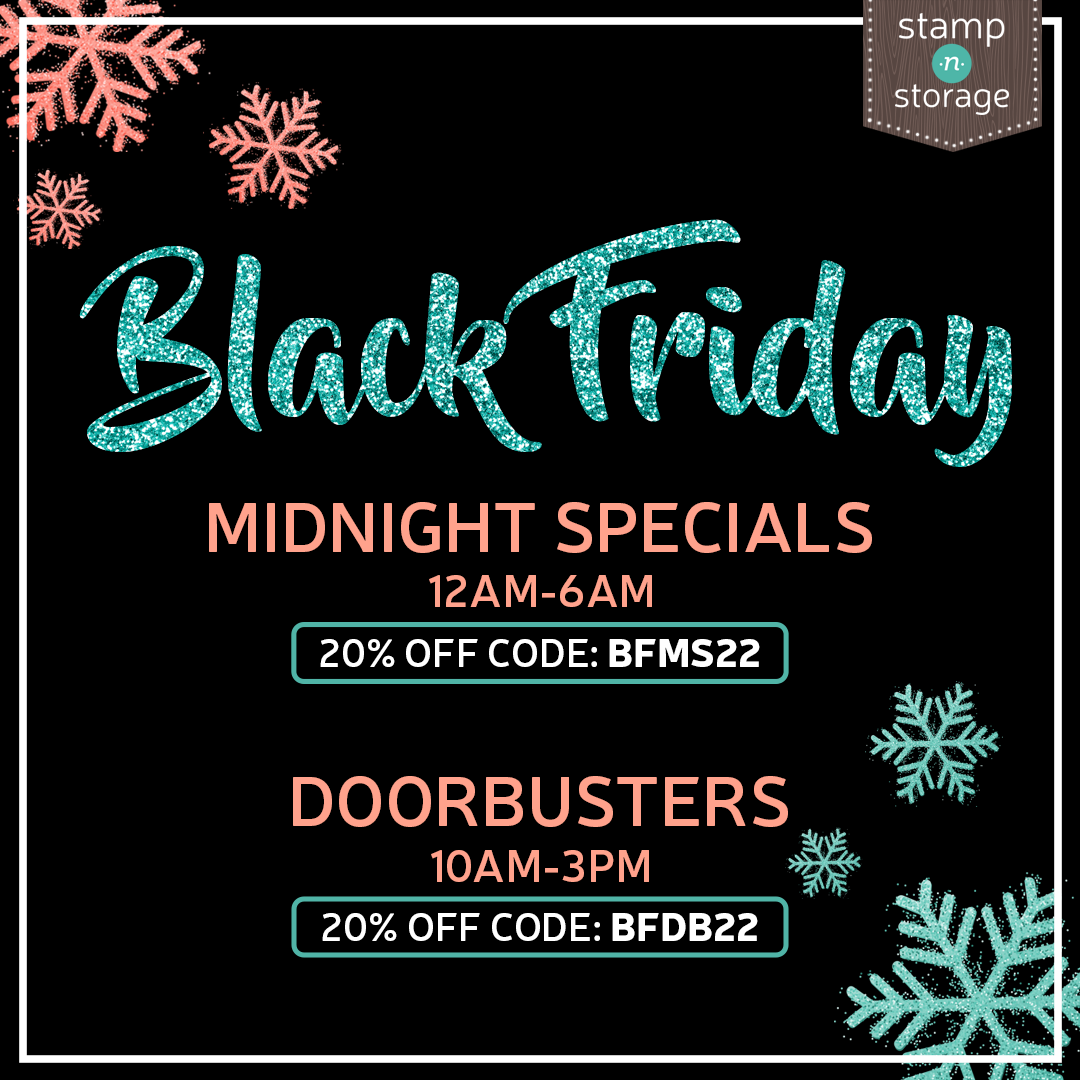 I'm a huge fan of Stamp-n-Storage products. I have several of their organizers in my craft space. They have SOOOOoo many products to keep your crafting space organized. So be sure to click here and shop. And then take advantage of the Holiday Sale deals if you plan to purchase.
Click here to shop my online store.
Click here to access & view the current catalogs.
Click here to shop My Favorite Extras.
Click here to subscribe to those fun Paper Pumpkin kits of creativity!
Click here to learn about my Loyalty Rewards program. You can earn free stamps just for shopping with me!
Click here to learn more about joining my Stampers With ART community. Get the MOST rewards including a discount on future products!
Follow me on social media! I share regularly on Pinterest, YouTube, Instagram, my Facebook Page, and my Facebook Group!
Please subscribe to my blog, too! Click here and enter your email in the blue box (above the butterfly).
STAMP-N-STORAGE HOLIDAY SALE!
Stamp-n-Storage is having their big Holiday Sale! 15% off and more!! Click here for the details.
LAST CHANCE PRODUCTS (SALE PRICES BEGIN DEC. 1)
It's time to say goodbye to retiring products from the 2022 July-December Mini Catalog. Click here for more information and to access the list of products leaving and the list of products carrying over.
FITTING FLORETS!
Oh such beautiful new products! These exclusive and early release products are now available! Click here to download an informative flyer. Click here to view a video showcasing this new Fitting Florets product. Click here and scroll down for more details on this promotion.
TIMELESS GREETINGS KIT ADDED
This month, we celebrate the people in your life who mean the world to you with Timeless Greetings—an all-occasion card kit you can use year-round! This unique kit features an elegant pocket watch and globe design in neutral colors, along with heartfelt sentiments that are sure to inspire lasting memories. This new kit is part of the Kits Collection and is available starting November 15, 2022. Click here for more details.
A PEEK AT DECEMBER'S PAPER PUMPKIN KIT
Create fun gift card holders to help you celebrate your special occasions all year long! Personalize with these reversible boxes and paper bands. This kit comes with enough supplies for you to make 16 different gift card holders—2 each of 8 reversible designs. It also has an all-occasion stamp set and enough paper pieces to allow for creativity for a unique design every time. Finished box size: 3-5/8″ x 2-1/2″ x 1/2″ (9.2 x 6.4 x 1.3 cm) Coordinating colors: Balmy Blue, Basic Gray, Blushing Bride, Calypso Coral, Crushed Curry, Garden Green, Tahitian Tide… Ink spot: Garden Green
Plus, this month you can take your crafting even further with a special add-on available now until supplies last…Good Things Cards & Envelopes. You get 16 cards (4 each of 4 designs) and 16 coordinating envelopes.
If you are not a Paper Pumpkin subscriber, I invite you to give it a try. CLICK HERE to learn more. CLICK HERE to sign up by December 10th for this next kit.
ALL STAR TUTORIALS
I'm a designer with the All Stars, a group of globally recognized Stampin' Up! demonstrators. And we are excited to share exclusively with our customers, paper crafting friends & team members our bundle of twelve November 2022 Sun Prints Suite Tutorials which are now available. CLICK HERE for more information. Click here to get to my Tutorials for Sale page to see the others that have been offered. The next one featuring the Hues Of Happiness Suite will be available December 1st! AND all these tutorial bundles include links to instructional videos!