I decided to pull out some of my 2019-20 Annual Catalog products that I put by the wayside when the seasonal catalogs began (the Magnolia Lane Designer Paper, Petal Pink Organdy Striped Ribbon, and Basics Adhesive-Backed Sequins). And I paired them with some of our newer products (the Under My Umbrella Stamp Seta and Umbrella Builder Punch) to create some Twisted Gatefold Cards so I could share them in my latest Online Paper Crafting Class.
This fun fold may look complicated, but it is a super easy to make. And when closed the card fits into a medium size envelope, so mailing it off to a friend is no problem.
I uploaded the recorded version of my Facebook Live video to my YouTube channel (since I know not everyone is ON Facebook). And then I was able to share it here in my blog post. Be sure to watch the video (you can just click on this image below if you are already on my blog), scroll through the close-up photos, check out the products list below, and then let me know if you have any questions.
I hope you enjoyed what I shared in this video. Below are measurements, more close-up photos, and a product list for the card I demonstrated.
Products I used… See below for a complete list of products linked to where you can find them in my online store.
Measurements…
Petal Pink Cardstock

4-1/4" x 7-1/2" scored parallel to short end at 2-1/2" and 5" then diagonally scored on the outside two panels

Whisper White Cardstock

Scrap stamping and punching umbrella
Scrap for punching 2" Circle

Basic Black Cardstock

Scrap for punching umbrella handle

Champagne Foil Sheet

Scrap for punching Starburst

Magnolia Lane Designer Paper

Three or four pieces that are 2-1/4" x 4"
Scrap for stamping and fussy cutting umbrella (opt.)

Petal Pink Organdy Striped Ribbon
Here are more close-up photos of the cards I demonstrated and/or shared in my video.
And here is a third one that I made after the video was over. I think I like this fourth one the best.
I hope you enjoyed what I shared today!
If you ARE on Facebook, I invite you to "like" then "follow" my page so you can get updates when I share and when I go live. My next FB Live will be on Wednesday, March 18th at 11 AM Central Time. Hope you can join me!
Many ask about the storage pieces in my craft space that can be viewed behind me during my lives. the cabinetry is mostly from Ikea. And the great organizational pieces are from Stamp-n-Storage. Click here to see my post on March 3, 2016 where I shared many details and photos of the new space – now 4 years ago (including some photos of the old space). Click here for my March 10, 2016 post where I shared my video tour. Then click here to see my June 18, 2018 post where I shared some of my updated pieces in that main section of the room.
I love how Stamp-n-Storage has transformed my craft space! And I'm excited to announce that this weekend you can get FREE SHIPPING on your orders.
March 6-9: Stamp-n-Storage Free Shipping Weekend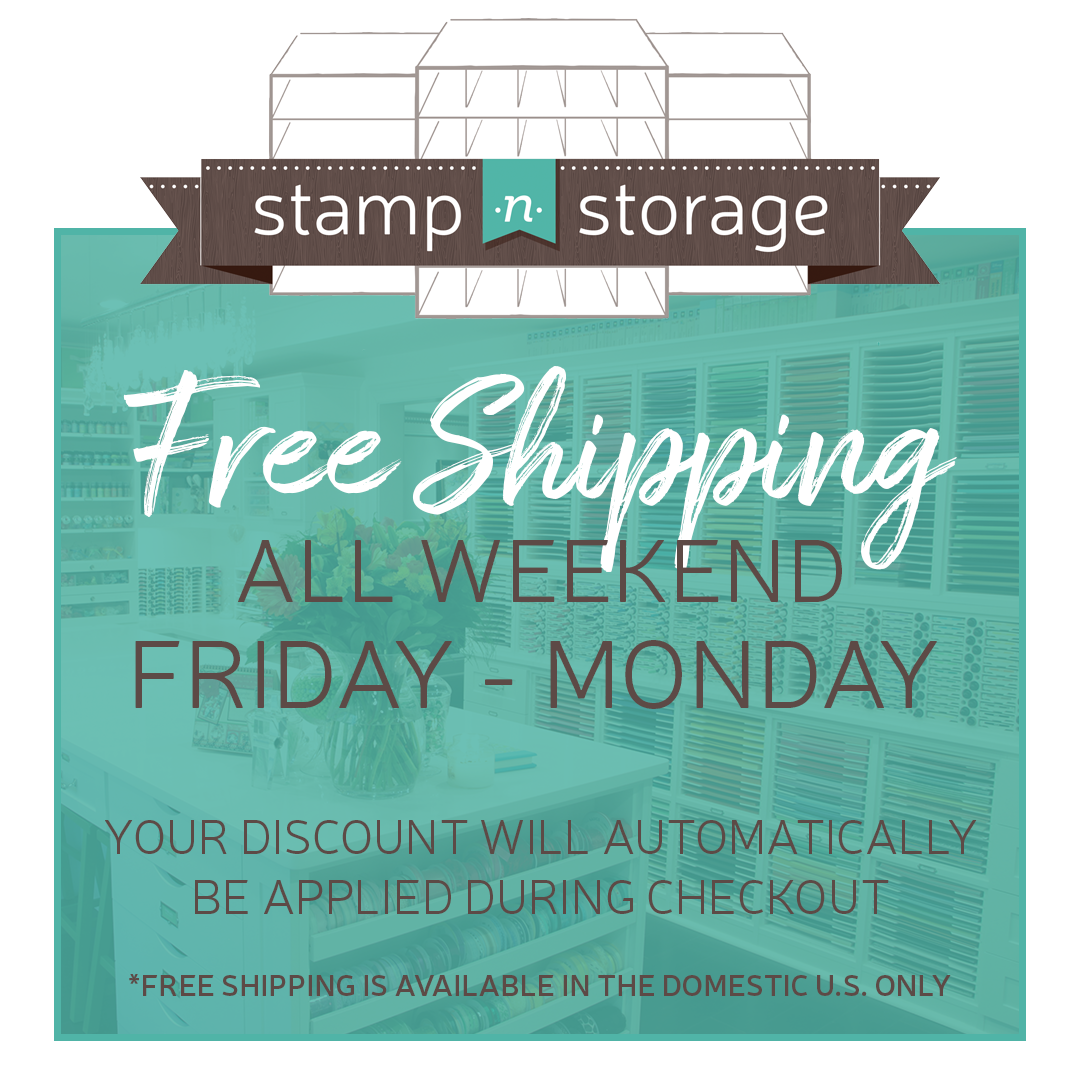 I'll be purchasing more 6×7 Storage Pockets (and maybe more).
Click here to shop my online store.
Click here to access & view the current catalogs.
Click here to subscribe to those fun Paper Pumpkin kits of creativity!
Click here to learn about my Loyalty Rewards program. You can earn free stamps just for shopping with me!
Click here for more information about joining my Online Paper Crafters' Club. Earn even more goodies by joining a club!
Click here to learn more about joining my Stampers With ART community. Get the MOST rewards including a discount on future products!
Follow me on social media! I share regularly on Pinterest, YouTube, and Facebook!
Please subscribe to my blog, too! Click here and enter your email in the blue box (above the butterfly).
Product List
ALL STAR TUTORIALS
I'm a designer with the All Stars, a group of globally recognized Stampin' Up! demonstrators. And we are excited to share exclusively with our customers, paper crafting friends & team members in a series of five fabulous months! Our bundle of twelve March 2020 Parisian Blossoms Tutorials are now available! CLICK HERE for more information. Click here to get to my Tutorials for Sale page.
SALE-A-BRATION NEWS
January 3 to March 31, 2020. Free products for all! Click here to learn more. (Second release products begin March 3rd!!)
FYI: the following products are sold out and no longer available…
Metallic Baker's Twine & Sequins Combo Pack (item 152314)
Kerchief Card Kit (item 152319)
Golden Honey Designer Paper (item 152311)
COORDINATION PRODUCTS ARE HERE!
February 4-March 31 is the perfect opportunity to purchase products that coordinate with our favorite products from the January–June 2020 Mini Catalog and Sale-A-Bration. Only available for a limited time or while supplies last. Click here for the visual flyer so you view the products! Click here for the coordination products list flyer. Click here to shop these products in my online store.
A PEEK AT MARCH'S PAPER PUMPKIN KIT
March's seven year anniversary Paper Pumpkin kit is just around the corner and will arrive in an exclusive, specially-designed box with supplies to make 12 note cards (4 of 3 designs). Because Paper Pumpkin is celebrating another milestone year, this kit will contain an extra bonus stamp set, too! Coordinating colors are: Balmy Blue, Basic Gray, Calypso Coral, Grapefruit Grove, Gray Granite, Pear Pizzazz, Petal Pink, Shaded Spruce, and So Saffron. Think daffodils, raindrops, and a fresh spring vibe. Then… Click here to activate your subscription by March 10th for this March kit.
MY ONLINE PAPER CRAFTERS CLUB IS LOOKING FOR NEW MEMBERS
We are looking for more to join our online Paper Crafters club. The commitment is to order at least $25 worth of Stampin' Up! product in each of 6 consecutive months. In one of those months, you would reap the hosting rewards (free merchandise based on the club orders). And then you'd also be able to get in on monthly product perks that would be sent to you along with your monthly club cards.