Look at this gorgeous home décor item!
My friends, Nancy Forsberg & Vicki Spicer came over one evening. (Kayla also came and hung out with us Ü.) We brainstormed and collaborated so we could each put one set together. And now I have mine on display in my home. My plan is to update it each month by changing the "O" to a design that coordinates with that time of year.
We saw the idea of this great project after fellow demonstrator, Sandy Carlson shared it at our Creative Connections event this fall. She got the idea from Cindee Wilkinson who didn't want to take credit for the original idea either. I guess these have been out there for awhile. But we were thrilled to finally be introduced to the idea!
The good news is you can also make one for yourself if you wish! There are 3 options…
The directions would take me a month of blog posts, so I put those many hours of work altogether into one printable big tutorial that you can purchase on my Tutorials for Sale page. This is a great option if you have or are able to access many of the products/supplies needed.
But if you don't have access to all those supplies, consumables and tools AND you live locally (near Blaine, Minnesota), you can attend Nancy and Kayla's upcoming class on December 8 at 11 AM and put it all together in a class setting where all the supplies are prepped for you and the products are all there to use. Keep in mind that Nancy & Kayla are in my Stampers With ART group, so don't feel like you aren't being loyal to me if you attend. I benefit when they benefit. And since I took a break from doing local in-person events, I'd love to promote events put on by those in my team. (Plus they are fabulous individuals! You will love them!)
The third option for those who do not live locally, but still want the supplies & the tutorial is to sign up by December 3rd for my "to-go" class. You would have to have some base products which you will see listed when you click on that link. I would provide the consumables, some other fun & needed products, the Velcro dots, the link to the 16-page tutorial, and December 14th Priority Shipping. Please note that this option is for US residents only.
Let me now if you have any questions!
SIX DAYS. THREE SALES. ONE SPECTACULAR PROMOTION…ONLINE EXTRAVAGANZA!
Yippee!! It's almost time for Stampin' Up!'s Online Extravaganza! The sale runs November 23-28 and includes some great deals! (more details below)
PLUS this year, I'm including a bonus bundle of exclusive tutorials that my Stampin' Anonymous Design team put together for this special occasion. So if you place an order (any size) between November 23-28, I'll email you a link for these fun stocking stuffer/gift ideas AND the November tutorial bundle (if you haven't already gotten it).
That's 12 "Better than Flat" project ideas just for ordering from me during the Online Extravaganza. The bonus tutorials will not be available for purchase separately, so you'll want to be sure to place your order with me during this time to get your hands on them.
The details of Stampin' Up!'s Online Extravaganza…
There are three, 48-hour sales featuring a selection of products from the 2018–2019 annual catalog—all at 10% off**!
November 23–24 – PAPER & EMBELLISHMENTS are 10% off!
Bags, Brads and Buttons, Cards and Envelopes, Cardstock, Designer Series Paper, Embossing materials, Glitter, Ribbons, Twine, Specialty Paper, Tags, Washi Tape
November 25–26 – STAMPS & KITS are 10% off!
Stamp sets, Project kits, Card kits, Kit refills, Memories & More, Punch box kits
November 27–28 – TOOLS & INK are 10% off!
Adhesives, Applicators, Cleaners, Cutting tools, Embossing folders, Framelits and thinlits, Ink Pads, Ink refills, Markers, Punches, Scoring Tools, Stamp blocks and cases
To see the full selection of discounted items during each 48-hour sale, visit
my Online Store
.
**While discounts will be available for most items, some exclusions apply. These non-discounted items include—but are not limited to—the following products: Host stamp sets, Paper Pumpkin (prepaids, monthly subscriptions, past kits/refills), Big Shot, Stamparatus, and Bundles (which will not receive additional discounts during this promotion).
CLICK HERE FOR A COMPREHENSIVE LIST OF ITEMS EXCLUDED FROM ONLINE EXTRAVAGANZA
Item quantities are limited. Depending on inventory levels, discounted pricing may or may not be available for items featured in the promotion throughout the entirety of each 48-hour sale. Discounted items may be turned off if their supply reaches a predetermined threshold.
STAMP-N-STORAGE HOLIDAY SALE
Now through Monday, November 26, 2018.
15% OFF Sale (excludes Starter Kits and Holiday Bundles) and Free Shipping for all domestic U.S. orders
PLUS TWO SPECIALS on Friday, November 23, 2018
CLICK HERE FOR MORE DETAILS and to shop.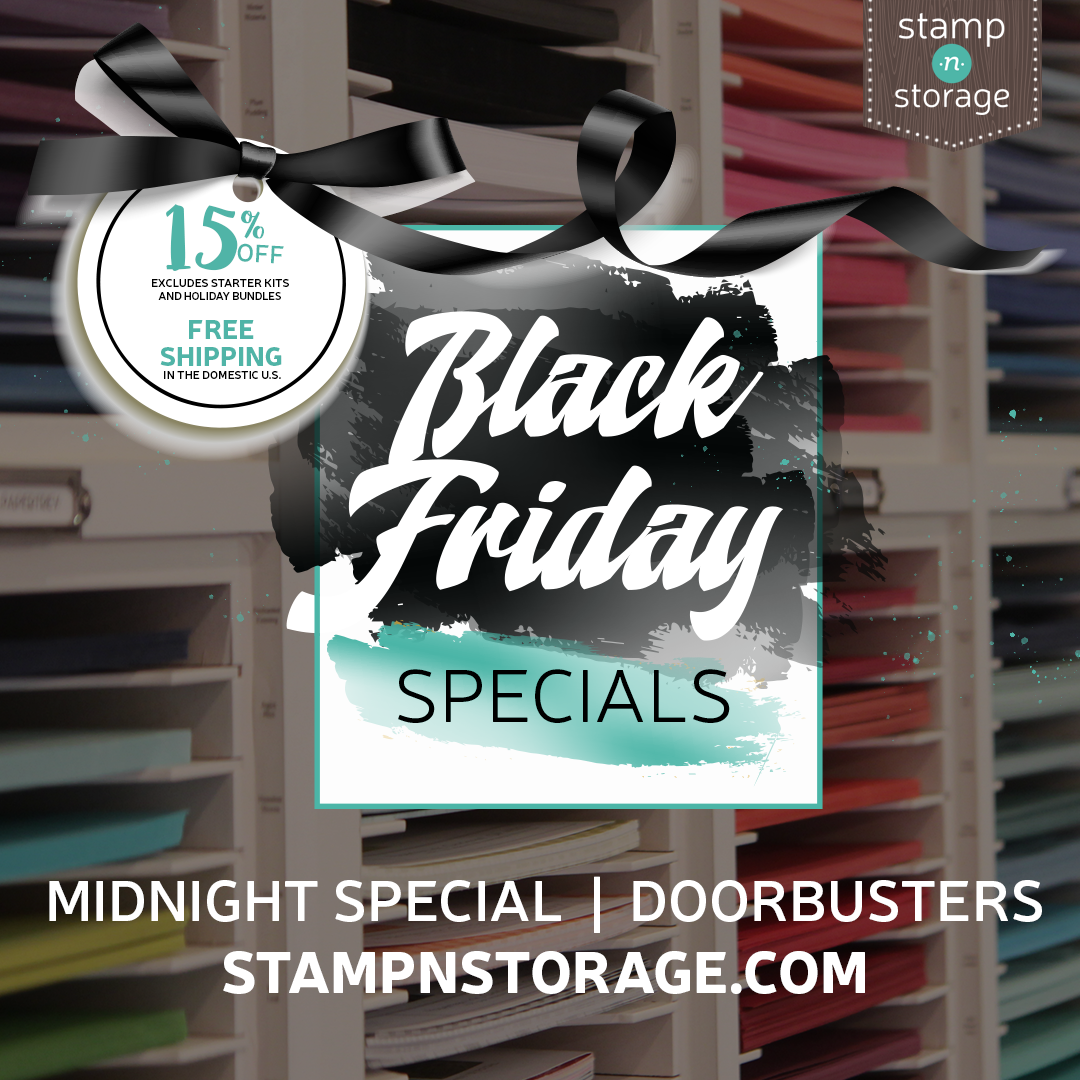 CLING STAMPS ARE COMING!
Cling stamps will debut in the 2019 Occasions catalog and Sale-A-Bration brochure! Click HERE for more information.
CRAFT & CARRY STAMPARATUS BAG
The Craft & Carry Stamparatus Bag is coming! It will debut December 5, 2018!
JOIN THE CLUB
Do you find that you order at least $25 worth of Stampin' Up! product each month? Do you want to get perks for those monthly orders? I'm forming a new Paper Crafters club that will kick off soon, and we are looking for new members. Click here to learn more. Then contact me with your questions &/or to sign up. We are currently looking for FOUR more members so we can start another new club this month or next. Who is ready?!
SNOWFLAKE SHOWCASE available this month only!
These beautiful, exclusive products are here. Click here for the details. Click here to download the flyer.
By the way, the White Velvet paper is now sold out – no longer available.
"BETTER THAN FLAT" TUTORIALS
Five super talented Stampin' Up!® demonstrators and I have joined together as the "Stampin' Anonymous team" to create Fun Fold cards & 3-D ("better than flat") projects to share exclusively with our customers, paper crafting friends & team members each month! CLICK HERE to find out how you can get your hands on these great tutorials. A new one will be offered each month. November's is ready!!