Woo hoo! Stamp-n-Storage is having a holiday sale! They announced it today to anyone who caught their Facebook Live broadcast, but the official email will go out to their customers tomorrow. So yes, if you are seeing this before Tuesday AM, the sale HAS begun. (Details are below.)
You know I LOVE their products. My stampin' studio is filled with their great storage units. And I recently stocked up on a few more during their Grand Opening of their new location on September 14th. Check out what I got. Aren't they pretty?!
If you are in the market for great organizational units, their products are shipped sanded and ready to be used in their natural state. And they ARE quite beautiful in their natural state. Most leave them unpainted. But I painted all of mine to match the white in my room.
Painting them was super simple. But you must have a well-ventilated space and a good temperature for spray painting a primer coat. It's imperative that you put down a primer coat of spray paint (non water-based paint). Once that protective coat is applied and dried, you can paint with a water-based paint that matches your room décor.
My water die collection has been growing, so this longer bin is perfect for the amount of framelits and thinlits I now own. (I have several more that didn't make it in this photo. And now they all stand up much taller.)
I'm excited to share my friend Debra's new set up! She was a Studio Showcase winner in September, and her room made their blog! Click here to see more and read about Debra's room renovation. Isn't it gorgeous?
STAMP-N-STORAGE HOLIDAY SALE
Now through Monday, November 26, 2018.
15% OFF Sale (excludes Starter Kits and Holiday Bundles) and Free Shipping for all domestic U.S. orders
PLUS TWO SPECIALS on Friday, November 23, 2018
Midnight Special: Runs 12am-6am CST ONLY. Starter Kits up to 30% OFF.
Doorbusters: Runs 10am-3pm CST ONLY. Take an additional 10% off for a total of nearly 25% OFF select items. Doorbusters include:
Ink Pad Holders
Punch Holders
Magnet Pad
Large Magnet Card Bundle
CLICK HERE FOR MORE DETAILS and to shop.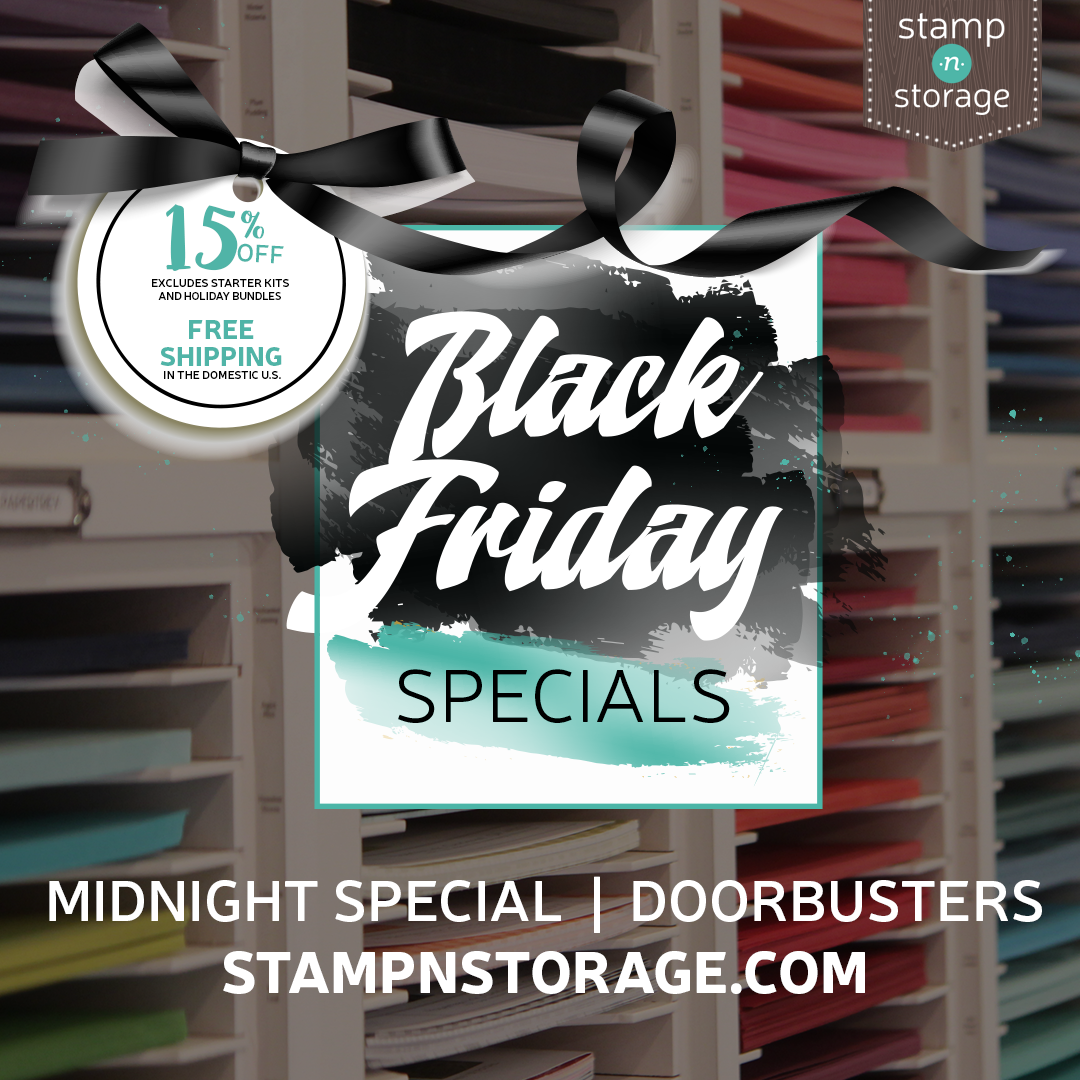 Stay tuned for my next post when I share more about Stampin' Up!'s Online Extravaganza sale.
Online Extravaganza!
Just a heads up!… Stampin' Up!'s Online Extravaganza will be November 23-28th.
And to make this sale even more special, our Stampin' Anonymous Design team has created a bonus bundle of exclusive tutorials!!! (in addition to the usual November bundle of tutorials) for those who place an order through us during those days. These extra tutorials will not be available for purchase separately, so you'll want to be sure to place your order with me during this time to get the bonus six tutorials that features fun stocking stuffer-type ideas.
More information about the Online Extravaganza (including door buster sales with Black Friday and Cyber Monday deals) will be coming soon.
CLING STAMPS ARE COMING!
Cling stamps will debut in the 2019 Occasions catalog and Sale-A-Bration brochure! Click HERE for more information.
CRAFT & CARRY STAMPARATUS BAG
The Craft & Carry Stamparatus Bag is coming! It will debut December 5, 2018!
JOIN THE CLUB
Do you find that you order at least $25 worth of Stampin' Up! product each month? Do you want to get perks for those monthly orders? I'm forming a new Paper Crafters club that will kick off soon, and we are looking for new members. Click here to learn more. Then contact me with your questions &/or to sign up. We are currently looking for FOUR more members so we can start another new club this month. Who is ready?!
SNOWFLAKE SHOWCASE available this month only!
These beautiful, exclusive products are here. Click here for the details. Click here to download the flyer.
By the way, the White Velvet paper is now sold out – no longer available.
"BETTER THAN FLAT" TUTORIALS
Five super talented Stampin' Up!® demonstrators and I have joined together as the "Stampin' Anonymous team" to create Fun Fold cards & 3-D ("better than flat") projects to share exclusively with our customers, paper crafting friends & team members each month! CLICK HERE to find out how you can get your hands on these great tutorials. A new one will be offered each month. November's is ready!!