New paper holders!!
I really love how Stamp-n-Storage products have organized my space. And now they have a solution for all of us who are looking to organize our 8×8 and 6×6 papers!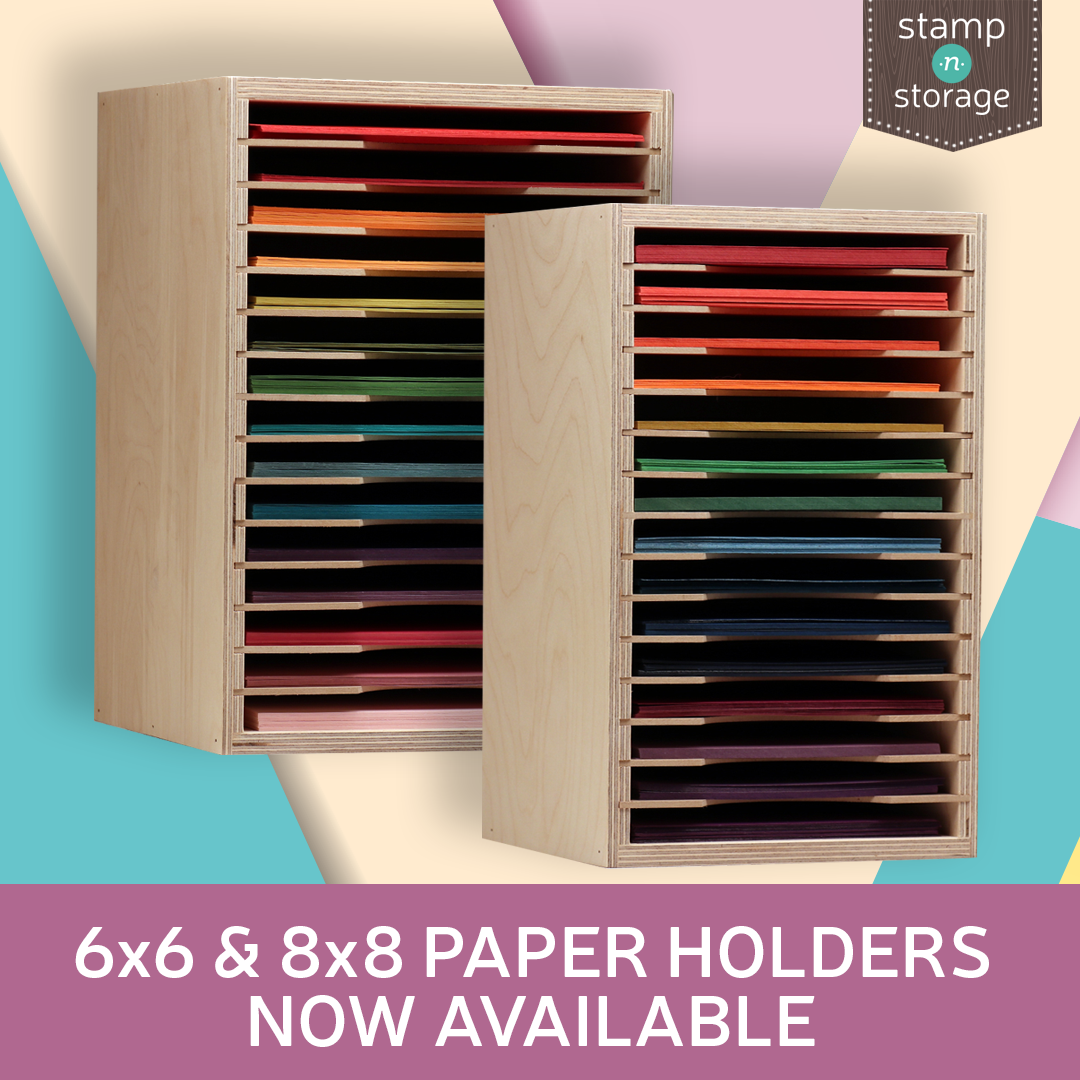 Yay!! To celebrate the release, Stamp-n-Storage is offering 10% OFF on these items today only. To take advantage of the sale use this coupon code: 6N8PAPER
Click on each item to view them on the Stamp-n-Storage website:
6×6 Paper Holder
8×8 Paper Holder
Both Paper Holders have 15-Slots and are available in two sizes: standard and for IKEA.
I just got the 6×6 Paper Holder! I still need to paint it to match the rest of my pieces, but I'm super excited about it.
OH! And check out the Mini Paper Holders they have, too! Aren't they adorable?!
Did you hear that Facebook was down yesterday? Wednesdays are the days I broadcast live and teach a fun new paper crafting project on my Facebook Page. But I couldn't even get on to tell people that I couldn't broadcast. It was very frustrating. I'm crossing my fingers that I can broadcast on Friday instead. So if you are somebody that tunes in for my Online Paper Crafting Classes, please know that I really wanted to share yesterday and that I will reschedule (hopefully for Friday) when I can get in and make sure everything is working again.
And since I'm sharing news, I also want to let you know that there are some products that are selling out in the 2019 Occasions Catalog already. These products were going to retire with this seasonal catalog anyway, but due to complications with Stampin' Up!'s die supplier & not being able to replenish the inventory, the following items are no longer available:
Doily Builder Thinlits Dies (item 148553)
Wonderful Floral Framelits Dies (item 148529)
And these items are on low inventory/forecasted to run out soon:
Rose Trellis Thinlits Dies (item 148549)
Detailed Birthday Edgelits Dies (item 148548)
Click here to shop my online store.
Click here to access & view the current catalogs.
Click here to learn more about Sale-a-Bration, the awesome promotion going on right now.
Click here to learn about my Loyalty Rewards program. You can earn free stamps just for shopping with me!
Click here for more information about joining my Online Paper Crafters' Club. Earn even more goodies by joining a club!
Click here to learn more about joining my Stampers With ART community. Get the MOST rewards including a discount on future products!
Follow me on social media! I share regularly on Pinterest, YouTube, and Facebook!
Please subscribe to my blog, too! Click here and enter your email in the blue box (above the butterfly).
SALE-A-BRATION COORDINATION PRODUCTS
During the month of March (and only while supplies last), Stampin' Up! is offering six new exclusive products that coordinate with several of our 2019 Sale-a-Bration products! Unlike the Sale-a-Bration products though (free with qualifying orders), the Sale-a-Bration Coordination products are for purchase. Click here for the informational flyer with images of all the products.
The Hop Around Framelits and Call Me Cupcake Framelits are sold out in the US and are no longer available.
SALE-A-BRATION 2019
Sale-A-Bration (January 3 – March 31, 2019) is one of THE best times of the Stampin' Up! year. Earn free exclusive products! Earn more Stampin' Rewards! Get a fabulous tote with one of the best kit offers ever!…CLICK HERE for more information & to find the links to the online brochures filled with fun free products. New Sale-a-Bration choices were added February 15 and again March 1.
The Organdy Ribbon Combo Pack, the Butterfly Elements, the Precious Parcel Card Kit, and the Foil Sheets are all sold out in the US and are no longer available.
GET $175 WORTH FOR $99!
It's a great time to sign up to be a demonstrator. During Sale-a-Bration, the starter kit is amazing!…Choose up to $175 worth of Stampin' Up! products (which could include preorder products!), and pay just $99. Shipping is free too, so you save there as well. There is also the option of adding in this beautiful, exclusive tote for an additional $30. Click here to download the Sale-a-Bration brochure and see the tote and the options for the great starter kit on pages 4 & 5. Click here to learn more about the perks of being a demonstrator in my Stampers With ART community. And then click here when you are ready purchase your kit. But hurry. This offer ends March 31, 2019…in just 3 more weeks.
"BETTER THAN FLAT" TUTORIALS
Five super talented Stampin' Up!® demonstrators and I have joined together as the "Stampin' Anonymous team" to create Fun Fold cards & 3-D ("better than flat") projects to share exclusively with our customers, paper crafting friends & team members each month! (Our March projects are now available!) CLICK HERE to find out how you can get your hands on these great tutorials. A new one is offered each month.
JOIN THE CLUB!
Do you find that you order at least $25 worth of Stampin' Up! product each month? Do you want to get perks for those monthly orders? I'm forming a new Paper Crafters club that will kick off soon, and we are looking for more members. Click here to learn more. Then contact me with your questions &/or to sign up.